Hi friends!
I know I have been away for awhile, we have been homeschooling the children so that they can finish their year early! ;) It's been hard work but the anticipation of an early summer break is so motivating for all of us!
Well let's get to what I wanted to share.
How many of you have pet cats? I love cats!!!!!! In my youth, I always favored dogs but as I have gotten older, I have come to really appreciate and love the felines.
As a family, we have had 3 cats!
Let me introduce you to......Simon.
He was adopted from a shelter in Los Angeles! We adopted this city kitten before our move to Tehachapi. We had Simon for less than a year. He got out one day and never returned. We believe that Coyotes got him. It was so heartbreaking. We missed him so much. Not sure what kind of kitten he was. I am positive he was a mix but as you can see he was a short hair and low maintenance when it came to grooming.
Months later......in came Mimi to our lives and hearts.
Mimi was also adopted. She was so tender and sweet with the children! The best cat ever. She would walk into the kids bedroom and make sure to say goodnight to each one of the babies before she decided which one she would slumber with. She was playful with deers and had no problem of getting rid of the rodents near by. As you can see Mimi is also a short hair. Her grooming was low maintenance as well. Mimi also had to leave us due to some changes in our living situation. We were so blessed to have found a home for her. Mimi's new owner adores her so much. The kids and I stopped by and visited her a couple times and promptly had to stop. It was very emotional for us, she always seemed to remember us and we always wanted to bring her home.
Years later, I received an anniversary present!
In comes.....Smokey.
A gorgeous cat! Don't you think? I do! His disposition, well let's just continue with the story. We love him so much. As you can see he is not quite a long haired cat. His hair is about in the middle of being short and long and the texture is a bit distinct than what I am use to.
I would unquestionably consider him a high maintenance cat when it comes to grooming. I have given Smokey baths sometimes with no problems at all, but I never trimmed his hair. He is now officially an adult cat because he turned one and well he needs to move on to bigger and better things! ;)
Hair cut time!!!!
If you know me, I like to save a buck. I am not cheap, but I like to be frugal! I also like to DIY!
So, like I do, I started to research groomers, styles and cost.
I decided Smokey would look nice in a lion's cut style.
Heeheee!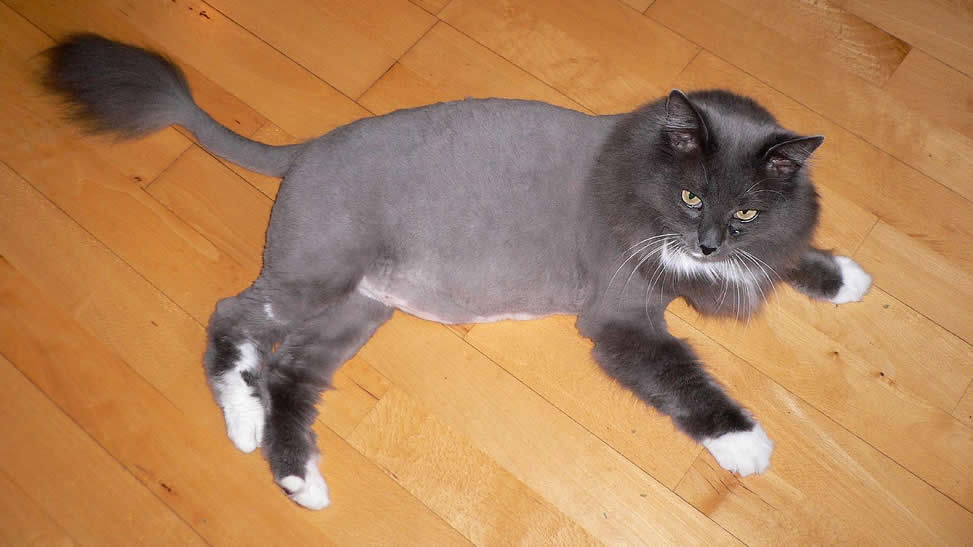 Cute or cruel?
Groomers, oh boy, the cost was just out of my price range. So, why not do it myself?
I went to PetSmart, bought a clipper for $50 and thought I would still be saving money and every time I cut his hair, I could think about all the money I would be saving. There I go, cheerfully I charge the clipper because it is cordless and in anticipation I wait the 12 hours needed to get Smokey looking so handsome. He didn't know what he had coming. I purchased cat treats to reward him during and after his process of beautification. I was grinning ear to ear anxiously waiting to get to him.
Twelve hours later, I coax loving Smokey who tenderly comes to me without any hesitation. Give him a few treats and turn on the quite clippers and to my amazement I was able to cut some hair. But, I did not consider how much hair would be flying and how my toddler wanted to come and get it.
Was it easy!?!
NO! Smokey got tired and we started to wrestle and he started to lick the hair that was on the floor. Soon all those treats came back out! =/
We decided to call it a night and get a fresh start in the morning.
Morning comes, Smokey is not having it and so this is the end result:
Needless to say, it is not a lions cut! And, he won't turn around to look at me! I have shamed him! I will be eating the cost and I will be taking him to the groomers soon!
Leave your comments below and be gentle!